In this post, I will explain you about the Magento 2 SMTP Extension
Magento 2 SMTP aids to develop your email reputation which is essential for each email marketing campaign. In Magento 2, the default host's default email server will use to send unsolicited emails, i.e. the reputation for this email is very low and they will be evaluated as incredible content, in fact your precious emails receive spamming box without tapping any notification.
Imagine how greatly damaging your business is, if you cannot properly send such an order confirmation, invoice, shipping information, their inbox, but classified as spam litter, this is not a professional administration.
Build your Amazon-like multi-vendor marketplace website @ $249/- now!!!
          Get your free live demo now: Click here
E-mail marketing has become an important campaign with the owner of each store. From this first simple form, you get the attention of the customers, honest concerns, strong support, and kind of attracting gift. Keep up to a hundred people to keep in touch with the customer, you have no other options. But you can email and this can cause great disappointment for your business emails to be classified as spam and they are automatically moved to the trash and will always be moved to the trash.
Need of Magento 2 SMTP Extension
To avoid this attack, set this in a simple way, Webnexs SMTP will aid you take extra control over the unique and running test section of Magento 2 SMTP server, improving your 99% chance that your emails can be accessible to the customer.
Modifiable SMTP server in Magento store
Webnex SMTP offers you friendly design and portability, simple guidelines, guidelines, along with tax guidance, and you can easily find its functionality. This extension will certainly welcome both beginner and professor welcome to welcome your business rocking.
With the security issue, Magento 2 SMTP recognition and compliance will be guaranteed to be safe.
Support about email service providers with SMTP
Using your own SMTP server is great, but you can customize it more conveniently from one of the popular email service vendors to save more time on your email business:
Mailgun
Mandrill
SendinBlue
SendGrid
Elastic Email
SparkPost
Mailjet
Gmail
Amazon SES
Hotmail
Office365
Zoho Mail
Mail.com
Postmark
1&1 Webmail
AOL Mail
Comcast
GMX
O2 Mail
Orange
Yahoo Mail
Yahoo Mail Plus
Yahoo AU/NZ
AT&T
NTL @ntlworld.com
BT Connect
Verizon
BT Openworld
O2 Online Deutschland
Custom SMTP
Including the following SMTP provider:
SocketLabs
AuthMailer
MailGet Bolt
TurboSMTP
SMTP2Go
AuthSMTP
SMTPProvider
Smtp.com
JangoSMTP
mailget-bolt
Testing Email Function
This feature will allow you to check if you do not have a valid email setting properly. The final request of each sender is to reach the exact destination of the newsletter, not the mailbox, not the spam box.
Using the running test, you can test the scene as you can see the email again in the email
 Sent Email logs
You are provided with a key intelligent module that keeps all the emailed mails sent, which allows the user to verify who they are / are sent back. By collaborating with the more self-tested email feature, they can find the right fault when checking detailed records and things will become easier if you can find the bad Apple and fix the bug found.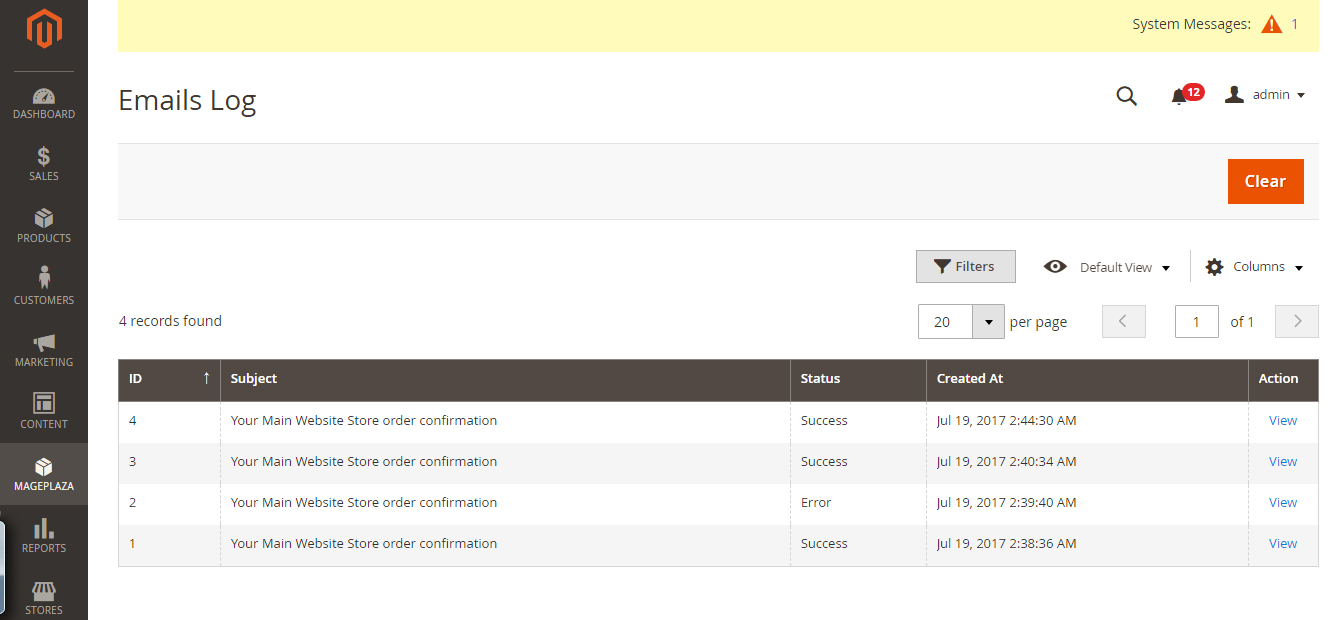 Extensive mailed email logging can be removed after a certain period, you can set the correct size to automatically clean or you can do this manually after manually checked
Developer mode
This useful mode is very easy to get to the main point. Sending emails to the recipient or the developer can take control of it
Full feature list
Magento 2 SMTP full feature list
Support 20+ SMTP email service providers
Testing email mode
Check back email displaying by customer view's
Records sent emails in log
Schedule log cleaner
Modifiable SMTP server
Secure Magento 2 SMTP extension authentication and coherence
Reduce the maximum risk email go to Spam box
Auto filling Host, Port, Authentication and Protocol after selecting SMTP Provider
Supplying three kinds of Protocol: None, SSL and TLS
Developer mode
Other features of an SMTP extension
Open source 100%.
Simple to install and configure.
User-friendly interface.
Life-time Support.
Life-time Upgrade.
30 days guarantee money back.
Fully well-matched with Webnexs extensions
Supports multiple stores.
Supports multiple languages.
Get your Magento 2 store instantly today, ask us how to click here.