Best OTT Revenue Model For Your OTT Platform
Video on Demand(VOD) is a system that allows viewers to select and watch video content of their choice through TVs, computers, and mobile devices. Individuals can assign or choose their interesting video content based on their preferences, all assisted by advancements in technology.
70% of consumers now trust streaming subscriptions provides better services than traditional TV
The term strike to represent this era in entertainment and media is video-on-demand or VOD
Eg. We can watch movies, live shows, and programs anywhere, anytime on YouTube Netflix, Amazon Prime Video, HBO, Disney+, etc…
Best Revenue Model for Your OTT Platform
Advertising VOD(AVOD)
Subscription VOD(SVOD)
Transactional VOD(TVOD)
"AVOD" platforms:
Advertising video-on-demand(AVOD) is ad-based video content, involving free access to their users for watching, while website owners can get monetized via their ads posted. This is free for the consumers increasing viewership and subscriptions, while advertisers pay for the channels/business. There are different types of ads involving pre-Ads, post-Ads & Mid -Ads.
Eg. YouTube is one best example, more of a sort of advertising platform where users pay nothing while advertisers keep supporting the business.
The most popular and successful AVOD platform for video creators is YouTube, where ads come in the form of:
These ads can take various forms such as pre-roll ads that play before the video.
Mid-roll ads that pause at strategic points throughout the content
In-video ads that appear on the screen during video playback.
Statistics here:
96.5% of YouTubers struggle to earn above the poverty line. 
YouTube takes nearly half of a creator's ad revenue.
In order to be eligible for YouTube's AdSense program, a YouTube channel must have at least 1000 subscribers and 4000 valid watch hours in the past year.
Benefits of "AVOD" platforms:
It offers more services and content absolutely at a zero-cost basis.
It delivers viewers valuable and entertaining content based on their choice sets.
Improve audience base absolutely at zero cost, while advertisers pay.
Read More: 5 Best Video On Demand Platforms (VOD) In 2022
"SVOD" platforms:
Subscription video-on-demand(SVOD) is a subscription-based service delivering video content for their viewers, choosing their packages. These payments can be collected either monthly, half-yearly, or quarterly basis based on the viewer's preferences. It is compatible with the consumer's budget for getting more services in a single click.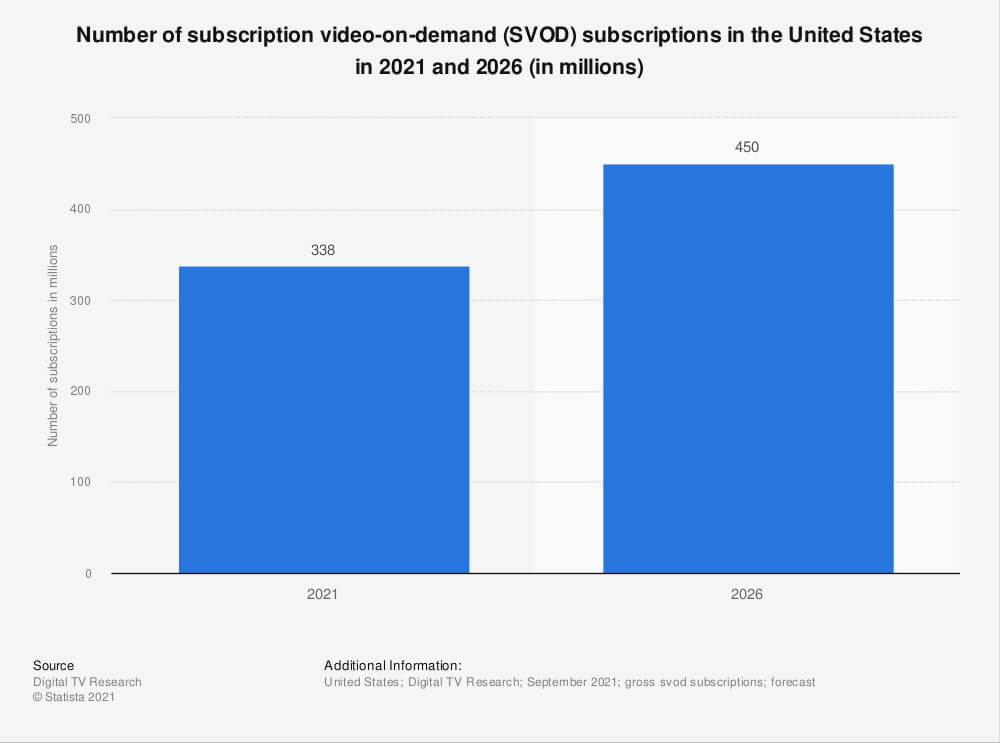 Eg. Netflix provides video content based on a subscription.
With nearly 190 million subscribers worldwide, Netflix is raking in a significant amount of money each month.
Taking an average of $6 per subscriber per month, the subscription-based video streaming giant earns over $1 billion monthly and more than $12 billion annually.
With such high revenues, the production of series and movies need not be too costly for this industry leader.
Benefits of "SVOD" platform:
Repeat purchases of video content by viewers keeping a steady flow of revenue.
Users can change subscription packages based on their preferences.
More package availability allows flexible subscriptions & increased revenue flow.
 "TVOD" platform:
Transactional video-on-demand is a model where viewers can buy or rent content on a pay-per-view basis. It involves purchasing a single content for a specific amount especially involving recent releases, cricket matches, etc.
Eg. Hotstar and Amazon Prime Video deliver movies/series to users allowing them to purchase a single content.
Learn more about it by checking out these important amazon Prime Video statistics:
200 million is the number of active subscribers worldwide on Amazon Prime Video
66% of people from the U.S. aged 35 to 44 years old currently subscribe to Amazon Prime Video
Amazon Prime Video has been ranked as having the second largest choice of original content, behind only HBO Max and ahead of Hulu, according to surveys conducted among US adults.
Benefits of "TVOD" platforms:
Viewers can only pay for particular content regarding their preferences.
It delivers cash-to-value services and meets customer satisfaction.
TVOD generates adequate revenue within a short period.
Revenue-Generating Best Practices Every Business Owner Should Know
Generating revenue is crucial for the success and growth of any business. Here are some revenue-generating best practices that every business owner should know:
1. Know Your Target Audience
Understanding your target audience's needs and preferences is essential to generate revenue. You need to know their demographics, interests, and purchasing behavior to create products or services that meet their needs. This can help you develop targeted marketing campaigns and pricing strategies that resonate with your audience.
2. Offer Competitive Pricing
Pricing plays a crucial role in generating revenue. You need to offer competitive pricing that provides value for money to your customers. Conduct market research to determine the average pricing of similar products or services in your industry and adjust your pricing accordingly. You can also offer discounts and promotions to attract and retain customers.
3. Provide Excellent Customer Service
Providing excellent customer service can help you generate revenue by retaining existing customers and attracting new ones through positive word of mouth. You need to ensure that your customers are satisfied with your products or services and have a seamless experience when interacting with your business. Respond to their queries and complaints promptly and offer solutions that meet their needs.
4. Diversify Your Revenue Streams
Diversifying your revenue streams can help you mitigate risks and generate revenue from different sources. You can offer different products or services that cater to different customer needs, expand to new markets, or offer complementary products or services that enhance the value of your existing offerings.
5. Leverage Technology
Leveraging technology can help you streamline your business processes, reduce costs, and generate revenue. You can use technology to automate your sales and marketing processes, offer online payment options, and provide personalized recommendations to your customers.
Are you interested in these ott revenue Models & looking for a chat?
Frequently Asked Questions
1. How does Netflix make money on OTT Platforms?
Netflix earns revenue primarily through subscription fees it charges customers for access to its content. It also earns additional income from other sources such as advertising, partnerships with content owners and sales of mobile games. The attractive library of titles, originals and the ability to stream on demand help retain customers which ultimately results in immense profitability for Netflix.
2. How do OTT platforms earn revenue?
SVOD, or subscription-based video on demand, involves users subscribing and paying a fixed rate to watch a library of movies and TV shows. On the other hand, AVOD (advertising-based video on demand) allows viewers to access content for free but the streaming platform monetizes through advertisements.
3. Which OTT Revenue Model is best for OTT business?
When it comes to deciding which is the best way to monetize short content for viewership, advertisements offer the highest potential for instant revenue. Alternately, AVOD (Advertisement Video on Demand) can give a better return for longer-titled content, as well as subscribing services, PPV (Pay Per View), Catch Up TV, and Coupons & Promotions in order to generate more consistent revenues.